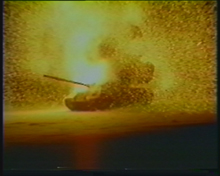 To see the entire film  CLICK HERE!
PLEASE NOTE that this is a low resolution web adaption. The original films for sale are all in much higher quality and and resolution.
Statistics from the US- Defense Department VETERAN AFFAIRS shows that:
163.000 American Gulf-Veterans have been declared disabled by the same Defense Department –
221.000 out of originally 697.000 Gulfwar soldiers have applied for treatment and compensation.
More than 11.000 soldiers have died, since they came home from the Gulf War
Look at the picture above. This is a test peformed by the American Army shooting at a tank With 4,5 kilogramme solid uranium ammunition.
The only thing burning in this picture is the dense metal Depleted Uranium – the steel and iron of the tank itself is just melting from the heat.
The Depleted Uranium burns with higher intensity than magnesium, and the more intense it burns, the smaller the particles get.
The particles in this picture will be 5 – 1 microns!
That means that nothing can stop these small particles from:
entering your lungs – burning and creating scars inside your lungs, reducing your breathing capacity-
entering your eyes – changing and blurring your opaq and giving you vision distortions –
entering your nerve system, destroying your brain-function
entering your kidneys – giving you kidney-stones,
entering your genitals,  transfering congenital defects to your children.
Depleted Uranium has a half life of 4,5 billions of years.
Why does the American army want to cower this up? Because Depleted Uranium is the most effective ammunition in war ever manufactured. The enemy burns into "crispy critters" – the tank crews panics, disembark their tanks and run for cover. But they cant escape from the dust of the burning Depleted Uranium, as well as every American Soldier is exposed.
The Agent Orange was also said to be harmless – the cover-up was not revealed before 23 years after the war.
Our film takes you to Vietnam, where, according to The Red Cross of Vietnam, today 154.000 children of the second and third generation of Vietnamese children have been borne with congenital defects –
Out of 81 million Vietnamese inhabitants, more than 1 million adults today are ill from the illnesses related to having being sprayed heavily with Agent Orange. On the pictures above you can see some Iraqian babies born with congenital defects.
On the pictures here under are the monster-babies born in the hospitals of Basra, Iraq. Testimonies who have visited those hospitals are among others.
Professor of Pathology, Tom M. Fasy.
Professor of Radiation Physics, Anders Brahme (Sweden)
Dr. Chris Busby UK, Scientific Secretary of the Green parties in the EU-Parliament, member of the UK- Governmental Board, DU- Oversight.
http://www.nuclearpolicy.org/DUSymposium.html