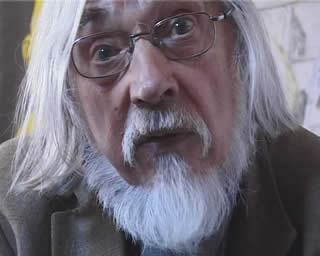 Erling Johansson is one of our internationally reknown painters. He was born in Lapland 1932 and fostered in a pious Laestadian village at Nattavara where temperatures can reach as low as -57 C (-70 F) in winter time.
Because of the way of life of the Christian society of the Laestadians he was forbidden to paint and sing when he grew up, and as free spirit he started to rebel against theese rules.
An anarchist by heart  and still wildly productive at the age of 81.
Visit his homepage: www.erlingjohansson.set
by Maj Wechselmann
Erling Johansson heter en av våra mest berömda målare internationellt. Han föddes i Lappland 1932 i en lästadiansk familj mitt ute på vischan. I denna nybyggarby var det förbjudet att måla, sjunga, lyssna på musik. Erling kom så småningom in på Kungliga Akademin för de sköna Konsterna och fick medalj efter medalj, offentliga utsmyckningar växlade med stora internationella utställningar och Erling skapade också två filmer som fick några av de högsta internationella priserna. I de animerade filmerna Expulsi och Anima Mundi gör han upp med sin barndom, de finns bitvis med i vår film om honom. I filmen får vi följa hur han målar porträtt av Hans Blix, Marika Lagercrantz, Jarl Alfredius, Kjartan Slättemark, Maj Gull Axelsson och 15 andra kulturpersonligheter.
Besök gärna hans hemsida: www.erlingjohansson.se